<![if !vml]>

<![endif]>
"Cory"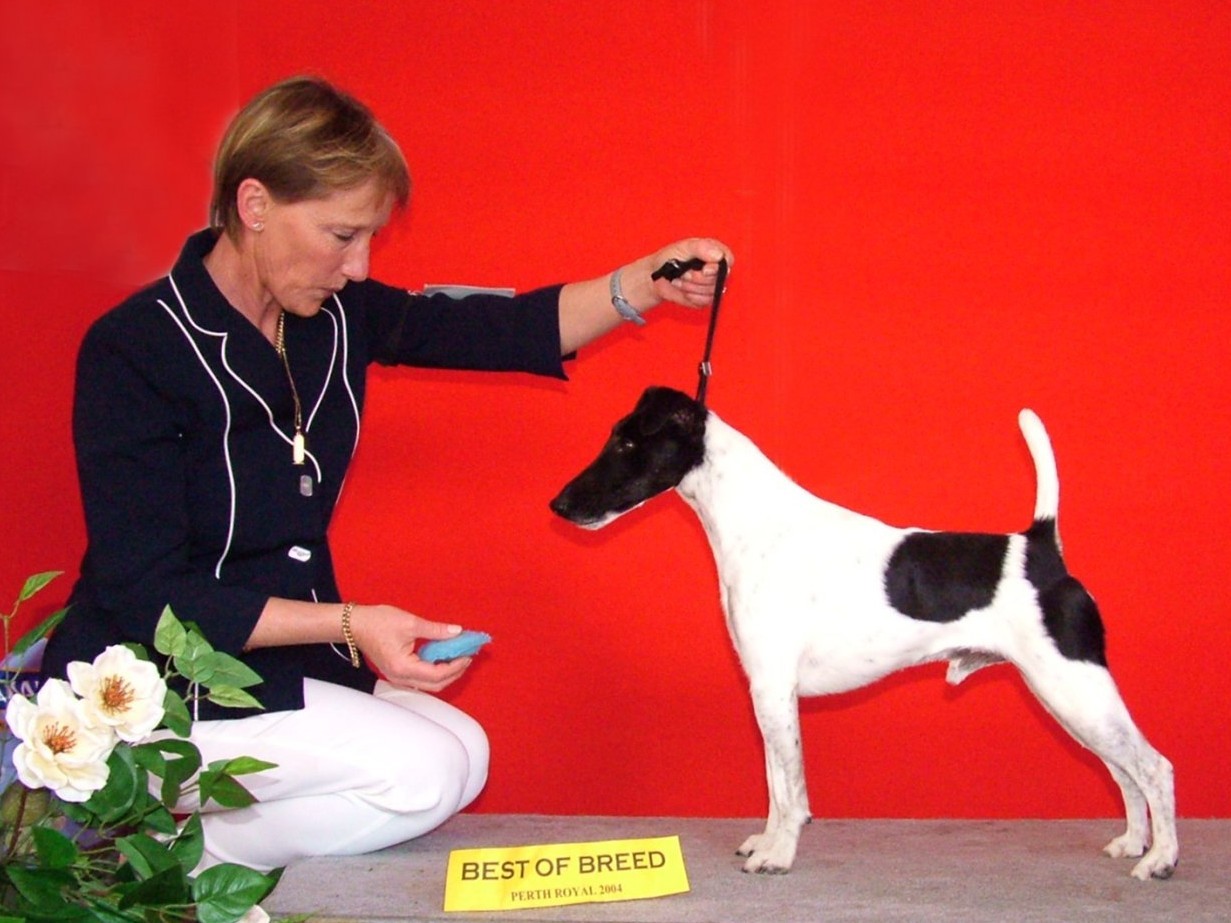 Multi BIS/BISSAust/Am Ch Tribalfox Coronado - Top Dog (all breeds) in South Australia for 2005 in accordance with the OzDog Pointscore System.
Cory's wins since 25 July 2004:

18 Best in Groups (Champ Show - All Breeds)
2 Best in Groups (Open Show - All Breeds)
16 R/up Best in Groups (Champ Show - All Breeds)
1 Best in Show Specialty (SA Toy & Terrier)
1 R/up Best in Show (Victorian Breed Specialty)
1 Open in Show Specialty (SA Breed Specialty)
1 Open in Show (Open Show - All Breeds)
1 R/up Best in Show (Open Show - All Breeds)
2 R/up Best in Show (Champ Show - All Breeds)
5 Best in Shows (Champ Show - All Breeds)
Some of the judges comments:
Ms D Cuthbert - Bull Terrier Specialist - "Absolutely Stunning!!!"
Ms D Norman (Qld) "Exquisitely superb - just stunning" - Best in Show
Mrs M Courtney-Reid (SA) "A true terrier" - Best in Show
Mr A Jones (Tas) "Wonderful to find a fox terrier that is correct size" - Best in Group
Mrs G Goller (Qld) "I have not seen a better Smooth" - R/up Best in Show
Mrs Ferelith Somerfield (UK) - "Correct movement topped with a superb head piece" - R/up Best in Group Perth Royal
Snr R Saldana (Mex) "Excellent type - beautiful" - Breed Judging - Western Classic - Perth
Mrs N Bieberitz (Vic) - "Beautiful - sound in every way" - Best in Show
Mr Robert Shreve (USA) - "Correct Size" - Group 2nds
Mr Tony Johnson (WA) - "Stunning head piece"
Mr Andrew Burt (VIC) - "He's a classic dog"
Cory was earmarked at age 5/6 weeks. From the moment Jim Bass and Ken Adcox sent us photos, he just had to come here. A hard decision and under great pressure, Jim and Ken acquiesced and let Cory come to live with us after they had finished showing him in the States.

Cory is the result of combining Grenpark, Graebrook, Blackfox, Son Es, Swan Lake, Tribalfox and Accolade bloodlines together, the end product speaks for itself.

Cory joined our kennel in May 2004. His first show out from quarantine resulted in a BISS win. Cory has since accumulated quite a few awards - as listed above. Needless to say his Australian title and Grand title came to him very quickly and easily.

Cory's first progeny in this kennel are now nearly 3 years old. He has been bred to Ch Blackfox ThBitch is Back, Blackfox Party Girl, Blackfox Lou Lou, Ch Accolade Opal-Rose and Ch Mirolinda Hot Gossip.

Cory is a Multiple BIS & BISS Winner and has joined the elite by attaining the status of Australian Grand Champion and is the first and only Smooth Fox Terrier in South Australia to do so.

Cory has to date produced 20 champions, among them are Am Ch Swan Lake Heiress of Tribalfox, Ch Mirolinda Star Wars, Ch Mirolinda Hot Stuff, Ch Mirolinda Hot Spur, Ch Mirolinda Hot Toddy, Ch Mirolinda Piping Hot, Ch Blackfox Anais Anais, Ch Blackfox Eden, Ch Blackfox Dante, Ch Blackfox Pure Poison, Ch Blackfox Hoodoo Voodoo, Ch Sunfox Rockafella Star, Ch Sunfox Movie Star, Ch Sunfox Atlanta Star, Ch Sunfox Matinee Star (all from one litter), Ch Graebrook Rodania, Ch Graebrook Rifaria, Ch Graebrook Ms America Pie, Ch Graebrook Steely Dan and Ch Graebrook Shimera.
It is with a sad heart that I place Cory in this section of my website. I have tried to find the right words to write here to do Cory justice, but realise I do not have to. Cory's illustrious show career and his quality progeny speak for themselves. Cory was taken from me on 9 February 2007 as a result of killing a brown snake and in the process, being bitten himself. He passed away peacefully in my arms and left a huge hole in my heart.


Frozen semen available
SonEs Lover Baby

Foxfree In Is Image

Aust/NZ Ch Accolade Ivory Rose

Ch Swan Lakes Desert Camouflage